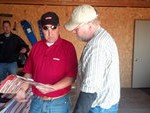 Feed the Farmer Week #1 was at the farm of Wayne Ubben. Duane and company were on hand to serve Wayne and his crew some great food from Sparky's One Stop in Jefferson. Duane talked to Wayne and some of the weeks sponsors who where on hand for the event:
Click here to see some photos from the event.
Feed the Farmer Week #2 is taking calls from Humboldt, Wright, Webster and Hamilton counties. When you hear the cue, call us at 515-955-7254 to be qualified for Feed the Farmer! Good Luck!