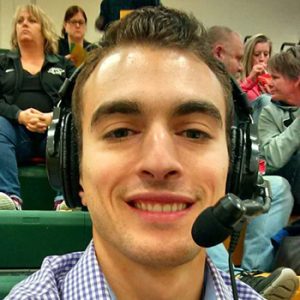 My name is Alex Benzegala, and I am from Gig Harbor, Washington. Feel free to call me by my nickname, Benzy. I graduated from Concordia College in Moorhead, MN with a degree in Communications/Mass-Media and Spanish Minor.
I first started broadcasting when I was 14, because I was lucky enough to have a radio station in my high school. My first day of high school, I was asked to broadcast the student newscast, and I was petrified. I was sweating all of over the mic, but I did it. I've been hooked on radio ever since.
That lead to me hosting my own talk show and play by-play for more than 75 high school football and basketball games in high school. My favorite high school memories include broadcasting state tournament games at Key Arena, home of the NBA's Seattle SuperSonics at the time. I also earned a sports broadcasting scholarship, and received my award from hall of fame college football broadcaster Bob Robertson, while I sat next to NBA all-star Isaiah Thomas at the banquet.
Along with broadcasting, I have a passion for serving youth. I have served as a pre-school teacher, worked as a mentor for at risk youth, tutored elementary students in literacy, and have volunteered as a college track coach.
My hobbies include running. I ran track in college and my favorite memory is running at Drake Relays in Iowa. I also love music, and I make my own rap music in my free time. I am a huge sports fan, I am a die hard Seahawks and Ohio State fan (Sorry Hawkeyes fans)
Fun facts about me: I am the only person in the world with the name Alex Benzegala. My grandfather, an Algerian, made up my last name in World War 2 to make it sound more French. I also take pride in being the only radio broadcaster in America with the speech impediment stuttering. I believe it makes me a unique broadcaster. I hope young people can look up to me as someone who overcame long odds to achieve his dream.