Candies & More is here for all of your Chocolate emergencies …. or any other sweet treats! They stock many types of Candies, Chocolates, Fudge, Sugar-Free, Ice Cream, Cookies! You will also find many gift items and collectibles for any occasion. Check them out at 819 Central Avenue, Fort Dodge, Iowa 50501. They are open Monday through Friday from 10:00am -5:30pm! Follow them on Facebook!
Tuesday, January 31, 2017
Terry stopped in this morning and he brought us some delicious goodies! Terry brought us some fresh Cashews, Sea Salt Caramels, Chocolate covered Almonds and Peanuts, Malted Milkballs, Butter Toffee and who didn't have these when they were younger, Candy Cigarettes!! Talk about a whole lot of delicious packed into a small box! You can make your own box for yourself or your Valentine today! Stop on into Candies & More to see what you can put together for Valentine's Day! Thanks Terry!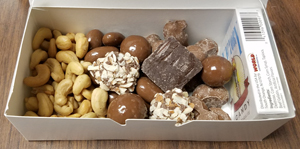 Tuesday, February 9, 2016
With Valentine's Day right around the corner, Terry stopped in to make sure that we reminded everyone that he has what your significant other wants for Valentine's Day! Terry brought us some Chocolate Covered Strawberries, Sea Salt Caramels, Butter Toffee, Alpine Toffee, White Chocolate Almond Bark and Peppermint Almond Bark! The Toffee and Almond Bark is just incredibly delicious and perfect for your sweetheart anytime of the year! And the Chocolate Covered Strawberries, hand dipped in delicious milk chocolate. Those are to die for!! Stop in now until Saturday, February 13th to pick some up. He will be getting the strawberries in on Thursday and will be working diligently to get them ready for you! Thanks Terry!!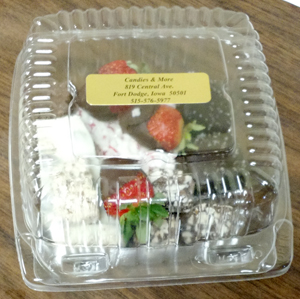 Tuesday, February 10, 2015
Our visits with Terry Cook are few and far between, but he always makes up for it with his great treats. This morning Terry brought us some Chocolate Covered Strawberries and some of his Sea Salt Caramels and Sea Salt Turtles! He definetly put us in the Valentine's spirit with the fresh, juicy strawberries that he dipped in his smooth, decadent chocolate! Terry said that he has 50 pounds of fresh strawberries coming, so if you still need something for your loved ones, stop in on Thursday, Friday or Saturday, February 12-14th, to get yours! You can also pre-order yours by calling 576-5977. You will not be disappointed!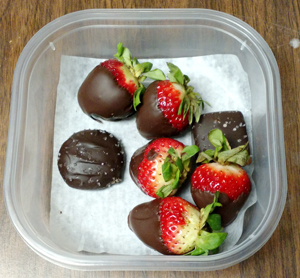 Tuesday, June 24, 2014
Terry Cook joined us this morning and he brought with him a box of goodies! Terry brought us some fresh Spanish peanuts, fresh cashews, fresh cookies, some decadent chocolates, some Nostalgic candy cigarettes and a Caramel Apple. Terry buys the caramel in a 15lb block and then he hand coats the apples there in the store! Stop by today and get a Caramel Apple and pick up some candy that you remember eating when you were a kid! Thanks Terry!