Look below at the categories to find what you are looking for. If you would like to list your item for sale below, click here to fill out the submission form.
If you would like to list your Real Estate, click here for details on how to get it listed.
If you have sold your Classified item, please contact us at greg.marquart@alphamediausa.com to let us know so we can get it taken down.
Autos
2006 Chevy Impala LTZ
A truly loaded, great condition car, metallic cinnamon red color, leather, 60/40 split front seat, sun roof, Bose CD stereo system, spoiler, electric seats, new tires, 116,000 mi. $5,950. Contact me at dennysmith@windstream.net or call 712-299-2934 with additional questions.
Trucks/Vans/SUVs
1997 red Ford F150 Lariot
8 cyl, long bed, leather interior. Very Clean. 107,000 miles. $3,750.00 or best offer. 515-368-1369.
2005 GMC Envoy SLT 4X4
193,000, Super Clean. Everything Works as it should. New Tires $4,500 o.b.o. 515-368-0208 text or call for questions or pics.
Auto Parts and Accessories
Tires
Studded tires, General 245/70/R16. Tires are mounted on 5 studded rims. Used one season. Total miles 3,700. Off 2008 Dakota. 515-545-4780.
Motorcycles/ATVs/Snowmobiles
Snowmobiles For Sale
2 – Older Yamaha Snowmobiles – Run good – $800.00 each 2 – 2001 Arctic Cat 600's – Electric start & Reverse – $1,800.00 each. 515-835-0835
Boats and Accessories
1984 Lund V-Hull DLX
With floor Minn-Kota Terrova trolling motor 55lb. 25hp Johnson elec. start outboard motor, 2 lowrange depth finders, new tires, LED lights, folding tongue. $2,500. 712-673-2662 leave message
Trailers
Recreational Vehicles
2010 Keystone Hideout 26RLS
New tires, surge protector, hitch, many extras all included. $13,000. 712-673-2662
Building Materials/Supplies/Tools
Farm Machinery, Horse Equipment, Etc
Amish team harness
Patent leather, spotted, fits 800 to 1400 lb , can be made single. Restored two seat buggy, team or single. 712-358-0186.

Collectibles/Antiques/Toys/Art
Oil Lanterns For Sale
The colored lantern is a mini lantern. It is about 9″ tall. Make offer. Text or call 515-351-8027.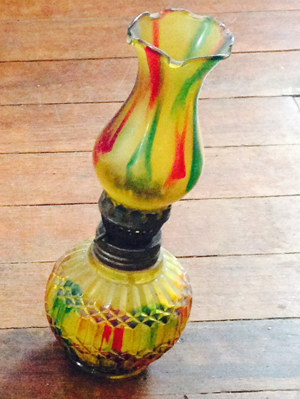 Computers/Electronics
Sony Blu-Ray Disc/DVD Player
Full HD video, Brand new, still in the box, never been opened. $50.00. OBO. $77.00 on Amazon.
Text anytime or call after 5:00. 515-408-6465. I have a picture. You pay shipping if applicable.
Household Goods/Appliances/Furniture
Lawn & Garden
Sporting Goods
Clothing/Accessories
7 – ItFit headbands.
Absolutely perfect condition! $5.00 ea.
2 prs. Miss Me jeans. Perfect, perfect condition! 32 Boot 32″ inseam; 28 Boot 33″ inseam. Beautiful back pockets! $50.00 ea.
Text anytime or call after 5:00. I have pics of everything, they won't send on this. 515-408-6465 You pay shipping if applicable.
Musical Instruments
Wanted

WANTED: Older Rupp Type Mini Bike
In any condition 563-419-6147
Lost and Found
Pets

Tickets
Health and Beauty
Miscellaneous
Books
FREE