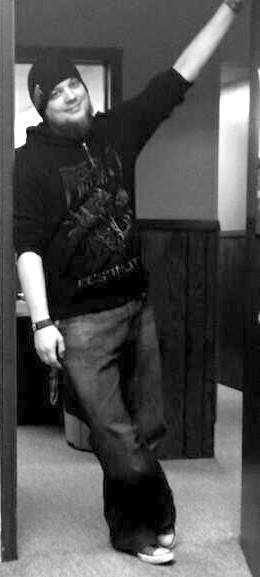 I grew up a few miles south of Fort Dodge in Harcourt, then Gowrie. One day in my troubled high school past, my guidance counselor sat me down and demanded to know what my plan for the future was. I didn't have one. I couldn't even give him an idea. So he sent me home for the day to figure it out. I went to the parking lot, got in my car and the radio came on. It just clicked. Music has been a big part of my life, as well as my family's life, dating back to the early 1960s (likely before that) with my grandpa, Dale Black. I'm not skilled with an instrument and I can't sing, so playing music over the radio was the next best thing. That set me on my path to Iowa Central's Broadcasting Program, and from there I came here in 2010.
Some of my favorite things include video games, pro wrestling, Futurama, horror movies, Marvel Comics, the Minnesota Vikings, being disappointed by the Minnesota Vikings year in and year out – that's not a favorite thing it just happens every single year and I have learned to accept it, attending concerts, Diet Coke, pizza, nachos, and $.65 boneless wing day. I collect action figures and t-shirts – one by choice, the other out of habit.
I'm definitely not Spider-Man, but you've never seen us in the same place at the same time. Excelsior!