Introducing The Cheesecake Lady. . .
Her name is Renae. But people have been calling her the Cheesecake Lady! She has lived in Fort Dodge for 8 years and she is glad to be a part of this community and to bring with her a family heritage in baking.
You can pre-order your cheesecake by calling Renae at 515-576-0025, sending her an email: cheesecakelady@frontier.com, visiting her website www.fdcheesecakelady.com, or by stopping by her bakery Tuesday – Friday from 9:30 am – 5:00 pm and Saturday from 9:30 am – 1:00 pm at 518 Central, Fort Dodge, Iowa 50501.
Tuesday, November 8, 2016
Renae was our guest on this brisk fall morning and what better way to start off the season than some flavors of the season!! Renae brought us Maple Pumpkin, Caramel Apple and Luscious Pumpkin cheesecakes as well as one of her better sellers, White Chocolate Raspberry. Nothing better than your own cheesecake and what a variety to choose from. The Maple Pumpkin is my new favorite, with the rich Maple flavor and Pecans in the crust, it is just a great tasting cheesecake. Who doesn't love Caramel Apples? Well, this cheesecake is no different! and the Luscious Pumpkin is just that, luscious! And obviously you are not wrong, the White Chocolate Raspeberry is a great seller for a reason! And not only does the Cheesecake Lady have incredible desserts, she also has Daily Lunch Specials that can be found on her facebook page and a deli menu as well. So stop in today to get lunch and get a new favorite dessert!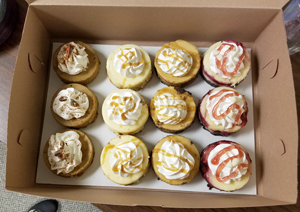 Tuesday, July 19, 2016
Renae was our guest this rainy morning and in typical fashion, she brought us some of her cheesecake to put us at ease with all of the storms lately. Renae brought us he Tuxedo Cheesecake, which is a decadent layer of chocolate cheesecake, a layer of creamy white chocolate cheesecake and a smooth layer of chocolate gnache. Delicious, like always. And Renae not only has great desserts, she also has really good lunch specials Tuesday through Friday. Check them out at her Facebook page. So what a better way to have a lunch than a great lunch special and some delicious desserts? Stop by her shop today and you will not be dissappointed!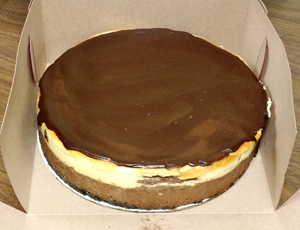 Tuesday, March 15, 2016
Renae joined us this morning and of course, with St. Patrick's Day right around the corner, she brought us some of her St. Patrick's Day dessert. She brought us a Mint Chocolate Chip Brownie Cheesecake. It is one of the flavors that she has this week to help celebrate St. Patrick's Day. And she not only sells desserts. She also has daily lunch specials. And the same goes for those this week with St. Patrick's Day. All of her lunch specials are Irish themed, including Bangers and Mash!! What a way to celebrate this week, at least the way that you can celebrate at work!!! Stop in this week to pick some up yourself!!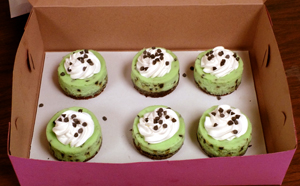 Tuesday, November 10, 2015
Renae was in our studios this morning and she brought one of her Fall Flavors of Cheesecake: Maple Pecan Pumpkin. From the first sniff to the last bite, it was a perfect combination of all three flavors. And even though I don't like pecans, it was delicious! Follow her of Facebook to see her specials and what other flavors that she is going to make. Not matter what you get from Renae, you will not be dissappointed.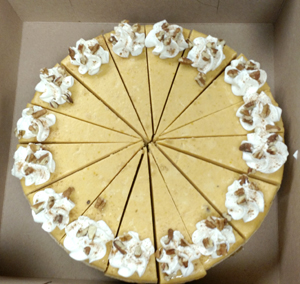 Tuesday, August 18, 2015
Renae stopped by this morning with a new colorful addition to her bakery. She brought us some of her Tye-Dyed Cheesecake. It is just a plain cheesecake, tye-dyed with different colors to help make your day a little more colorful! Of course, her cheesecake is delicious!! She also mentioned that she has her daily $10 Business Lunch Specials. So if you are on Central Avenue on your lunch, stop on in. You will not be disappointed. So far, she hasn't brought us anything that didn't taste great!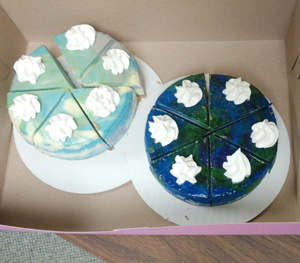 Tuesday, March 17, 2015
The Fort Dodge Cheesecake Lady joined us this morning after a long while and she made up for that! She brought us a Bailey's Mint Pie for St. Patrick's Day and it was delicious! It had the rich flavor that you get from a French Silk Pie, but that distinct taste of Bailey's that we love! And who wouldn't love that Mint Green for St. Patrick's Day? Thanks Renae for giving us such a decadent dessert and we are glad that you stopped in!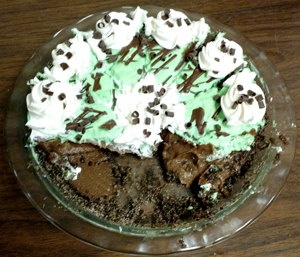 Tuesday, November 5, 2013
Renae joined us on this gloomy November morning with some new stuff that she is doing in her bakery. She brought us some of her sandwiches that can be found on her new lunch menu. She brought us Turkey and Bacon, Roast Beef and Italian sandwiches for us to try. Definetely a great lunch. You can also get soup and salads to go along with your sandwich. And what goes better with lunch is a snack. You can choose one of her delicious bakery items while you are there. Thanks Renae for your delicious sandwiches!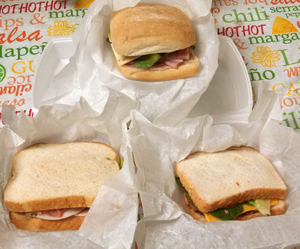 Tuesday, August 6, 2013
Renae was our guest once again and we were very happy that she was able to get away from the bakery to join us! She brought us 3 varieties of cheesecakes to choose from: Chocolate Chip Cookie Dough, Brownie Swirl and White Chocolate Raspberry. What a treat! And you can get these delicious treats and others now since the Cheesecake Lady is trying to get rid of her current inventory so she can move into her NEW bakery on Central Avenue. She is also issuing Cheesecake Bonds for $50. The bonds will help her get the bakery done and in return you get $100 worth of cheesecake and other treats that she will have in her bakery. She is hoping to be able to open the doors sometime between August 17th and Labor Day. We want to wish you good luck Renae with the new bakery and we look forward to you joining us again in the future!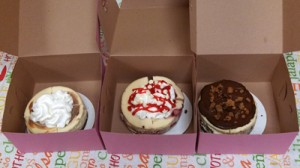 Tuesday, May 7, 2013
The Fort Dodge Cheesecake Lady joined us on this beautiful spring morning and brought us something that was just as great, CHEESECAKE! Renae brought us a Peanut Butter Cup Cheesecake, a French Silk Cheesecake and a White Chocolate Raspberry Cheesecake. Delicious as usual! Renae also shared some great news with us. She is moving into her own building on Central Avenue in Fort Dodge and she is hoping that it will be opening on June 1st! She had a goal of selling 1,000 cheesecakes last year and she sold 2,000!! What a way to tell her that everyone LOVES her cheesecakes! Good luck Renae!