Tom Thumb Deli & DQ is located at 201 North 15th Street in Fort Dodge. Their hours are 6:00am-10:00pm with their Dairy Queen hours being from 11:00am-10:00pm. Tom Thumb Deli & DQ has a full service menu with anything from their Broasted Chicken and Burgers to Salads and Fresh Baked Breads! They can even cater your next big event! They also have daily specials! Call 515-955-6125 for their special of the day!
Tuesday, April 14, 2015
Jill and Shana stopped by our studios this morning and brought us enough food to last a couple of days! They brought some of their Loose Meat Sandwiches, Broasted Chicken and Double Cheeseburgers. But what meal wouldn't be complete without some delicious side dishes, so they also brought some Potato Salad and some Coleslaw. And the girls know us all too well! They also brought us some dessert. They brought us some Dilly Bars and some MOOLattes! These girls really know what to bring and they always bring us only the best! Thanks girls!!
Tuesday, January 13, 2015
The girls from Tom Thumb stopped this morning with some warm food to get us going. They brought us some of their Broasted Chicken, Double Cheese Burgers, Donuts, Coleslaw, Potato Salad, Soup and some Oatmeal Chocolate Chip Bars. They really know what to bring. They never dissappoint! Thanks Jill and Shana!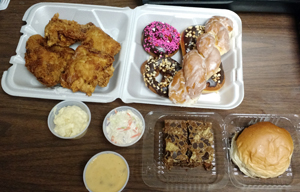 Tuesday, November 18, 2014
Tom Thumb dropped in our studios this morning and of course, brought a delicious variety of food. They brought us some of their Fresh Donuts, Fried Chicken, Loosemeat Sandwiches and something new – Lasagna Soup! Everything that they bring is always delicious, especially the Lasagna Soup! What a great way to warm up on a cold night. Stop into Tom Thumb and try a bowl for yourself. You will not be disappointed.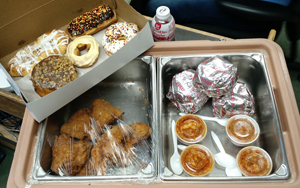 Tuesday, September 23, 2014
Jill and Shawna stopped by our studios this morning and brought us some of their delicious Broasted Chicken, some Double Cheeseburgers and some fresh Donuts! The chicken as incredible with the crispy skin and juicy meat and the cheeseburgers showed us why they are some of the best in town! And of course, what morning is complete without fresh donuts! We always love it when Jill stops by with all of the delicious food that they bring us! Thanks!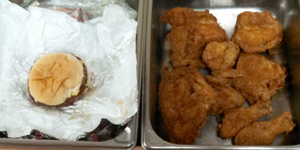 Tuesday, July 15, 2014
Jill and Sarah were our guests once again this morning and they just keep bringing us great stuff! Today they brought us Coney Dogs, Loose Meat Sandwiches, Dodger Bars and of course, their delicious Donuts! What a way to start the day and to be full for the rest of it! Thanks girls for bringing us such good food and lots of it!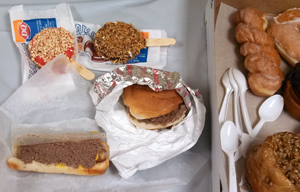 Tuesday, June 10, 2014
Jill and Sarah stopped in this morning and, of course, brought us some of their delicious treats. They were also joind by Jill's grandsons Ethan and Gage. They brought us a Double Cheese Burger, an ice cream dessert, some of their Dodger Bars, some baked beans, coleslaw and potato salad and some delicious donuts to finish it off. Talk about a great morning treat! We are going to be full for the next couple of days!