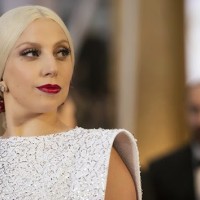 A.M.P.A.S.(r)/Image Group LA(NEW YORK) — Lady Gaga debuts in her first major TV acting role tonight: playing the bloodthirsty, bisexual Countess Elizabeth on FX's American Horror Story: Hotel. The show's creator says he's so pleased with her work that he's trying to get her to appear in the show's next season as well.
AHS co-creator and executive producer Ryan Murphy tweeted, "Lady Gaga is so brilliant in AHSSeason 5 that yesterday I officially asked her to join Season 6. Say yes @LadyGaga!" The actors inHotel, who are part of Murphy's regular troupe, would likely be down with that, as they've enjoyed working with her on this season.
At the show's red-carpet premiere a few days ago, Oscar winner Kathy Bates, who plays Iris on the show, said Gaga was "sweet" and, "grateful to be there," adding, "She's been so respectful of us and more experienced actors but she's in it, man. She's focused and she scared the bejesus out of me a few times with her character. I'm not kidding! I was like, 'Whoa.'"
Matt Bomer, who plays Donovan on the show, says he's literally on a first-name basis with Gaga. "I call her Stefani, only because it sort of takes the mythos and all the preconceptions of Lady Gaga out of the equation so we can just relate to each other like human beings and actors in a scene," he explained, referring to Gaga's birth name, Stefani Germanotta.
"She's so approachable," he added. "She totally just was there for us as a person and had us over to her house and ingratiated [herself with] all of us, so that by the time the cameras were rolling and we were in a scene together, we weren't thinking about the fact that you were doing a scene with Lady Gaga."
And speaking of having the cast over to her house, cast member Denis O'Hare, who plays a cross-dressing bar employee named Liz Taylor, says Gaga threw quite the bash for them.
"She had a pool, she dyed it blood red. She had bathing suits for all of us," he revealed. "I jumped right in. I wore a woman's bathing suit at one point. She had a massive amount of food for us. She had a half-naked bartender for some of us. It was an incredible party and it was just us, so it was comfortable and we all got to know each other."
"And," he added, "She got a birthday cake for [co-star] Angela [Bassett]. I can't describe it. It was an obscene birthday cake. It was shocking, actually."
By the way, Bassett has revealed that said cake showed her character and Gaga's having sex, as they do in the show.
Cheyenne Jackson, who plays Will Drake on the show, says he was most impressed with the fact that Gaga brought in items from her own closet to supplement the Countess' outrageous wardrobe.
"I always ask her, 'Is this yours?'" he says. "I think it's a big blur at this point. I mean every single moment she has a different thing, like a turban, or short hair, long hair…it's pretty awesome!"
During an appearance on The Tonight Show Tuesday evening, Gaga discussed her role with host Jimmy Fallon, noting that she took the part very seriously.
"I worked really hard on it and I'm completely committed to the role and I'm not doing anything else while I'm doing Horror Story, she said, revealing, "I went to acting school for 10 years growing up in New York…I went to Strassberg Theater downtown and studied method acting…I just was really terrible at auditioning and awkward and couldn't get a job, so I decided to become a singer instead."
Gaga says it wasn't hard getting into character for her role. There's this really kind of strange world that Ryan has created of these very narcissistic characters that are all trying to survive in their own way," she notes. "Mine in particular is a…vampire, so I need to drink blood in order to survive. So you find yourself going you know, 'What is right and what is wrong, what is good and what is evil and when is it okay…to be cunning in order to survive"
American Horror Story: Hotel premieres tonight on FX at 10 p.m. ET.
Copyright © 2015, ABC Radio. All rights reserved.