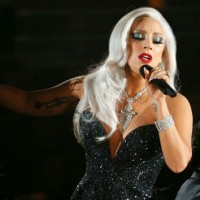 Monty Brinton/CBS Broadcasting, Inc.(NEW YORK) — Lady Gaga knocked 'em dead at the Oscars last year, and now she'll be singing for an even bigger worldwide audience. The NFL announced on Tuesday that Gaga will be singing the national anthem at Super Bowl 50 this Sunday.
This will be Gaga's first time performing at the Super Bowl but she's already had quite the high-profile year: she's nominated for an Oscar for her song "Til It Happens to You," and she picked up a Golden Globe last month for American Horror Story: Hotel. Later this month, she'll perform at the Grammy Awards.
Last year's anthem was sung by Idina Menzel. Beyonce, who sang the anthem in 2004, will be joining Coldplay onstage during this year's halftime show.
Copyright © 2016, ABC Radio. All rights reserved.