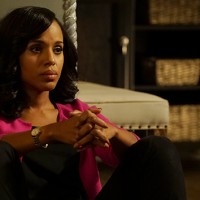 ABC/Eric McCandless(NEW YORK) — Gladiators, get ready because Scandal is back this week. And of course, they will be bringing the drama this spring.
The last time we saw Olivia Pope, played by Kerry Washington, she and POTUS Fitzgerald Grant, played by Tony Goldwyn, were calling it quits — after finally reaching the idyllic fantasy romantic state they've endured so much for.
Cornelius Smith, Jr., who portrays Marcus on the hit ABC drama, tells ABC News Radio that it doesn't look like there will be any turning back for Washington's infamous fixer and her love affair with the leader of the free world.
"We'll see Olivia kind of working things out, I think, post-Fitz," the former All My Children actor revealed. "She looked pretty done to me. It looked done and it felt done and until I have further information, it's done. Done is done. It has to be."
Smith says his character Marcus is now officially a part of Pope & Associates but there will be an intense adjustment period under way.
"Coming back you will see basically how Marcus, number one, he's an official gladiator, and…number two, you'll see Marcus, he has his flag in justice and doing the right thing and he doesn't necessarily have a great impression and approve of the way the gladiators do business. So you'll really kinda see how Marcus, number one, has set the bar and will see Marcus raise the bar."
Katie Lowes, who plays Quinn, adds, "Time has passed, and so you can really see the effects of Olivia's choice about making an abortion, you can see how O.P.A. has been through all of her transition."
The current season of Scandal resumes tonight at 9:00 ET on ABC.
Copyright © 2016, ABC Radio. All rights reserved.