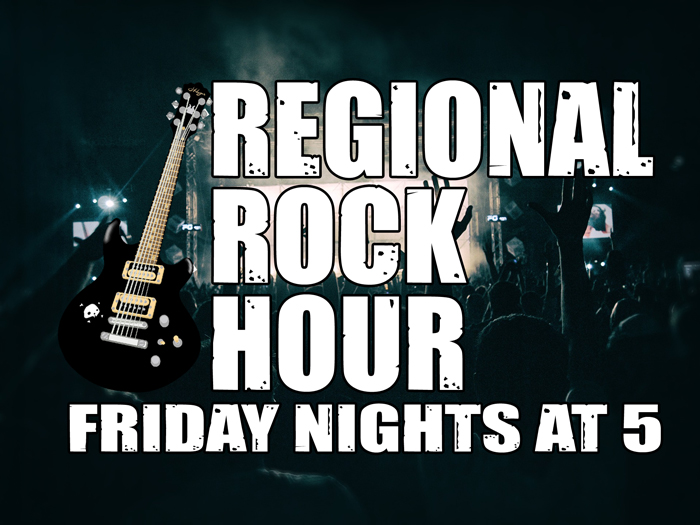 92.1 The Eagle presents the REGIONAL ROCK HOUR every Friday at 5:00pm. You'll hear all kinds of independent rock bands out of the Midwest, interviews with the artists, and find out where you can catch them live. This is the ONLY radio show in the area featuring LOCAL rock bands! We also play the show again at 11:00pm!
To submit your recordings, send a short bio, contact info, and mp3 files to josh.mason@alphamediausa.com OR mail a hard copy to Alpha Media c/o Mason, 200 North 10th Street, Fort Dodge, Iowa 50501
Listen to your favorite local bands below. Mason gives you a playlist of who played when during that show. Find them below!
Friday, September 14, 2018
In September, the Third
Thursday
Jam Sessions pick back up in the Rock Room at Patty's Pub. This month, Jordan Reuter and Cole Smothers will be the house band for a very special all acoustic edition. Below you can hear interview clips from the show and a live in studio performance of Jordan's original song, Swallow: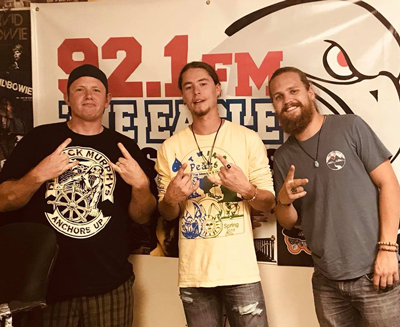 Mason with Cole Smothers and Jordan Reuter
Friday, August 3, 2018
This week on the Regional Rock Hour, Mason had guests in from the bands ADHD and The Hamson Devils. They talked about an upcoming benefit show for a family friend diagnosed with breast cancer. They also discussed another benefit and memorial ride for Shane Wessels, and debuted the brand new, not yet even released single from Twenty 2 Salute! Here's the on air discussions: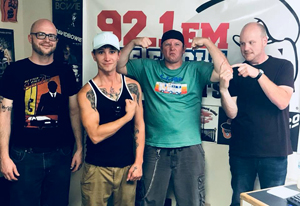 Photo is from L to R: Jared Harp, Cameron Panzi, Mason, Joel Hamlow
Friday, July 20, 2018
This week on the Regional Rock Hour, Brutal Republic drummer Kaleb Ferry came in the studio to talk with Mason about scholarships they set up. In conjunction with the Fort Dodge Fine Arts Association, (4) $2,000 scholarships have been set up in honor of local music supporters who have passed away. Below is audio from the breaks from the show and links to donate to the scholarships:
Friday, July 13, 2018
Sinister Theory was the guest on Friday The 13th in July to talk about their upcoming show, Sinister Theory Rock Fest, at the Eagles Ballrom on Saturday, July 28th. One dollar from every paid admission will go to the local Veterans. There's the breaks with them in the studio: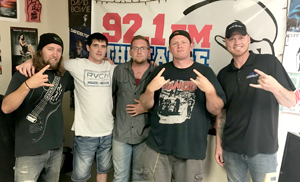 Photo is Sinister Theory with Mason in studio
Friday, July 6, 2018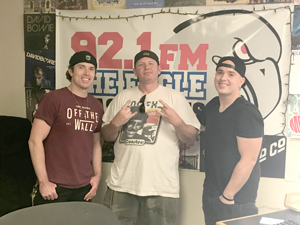 Mark Schoon(L) and Mike Schoon(R) with Mason
Friday, June 8, 2018
Friday, May 25, 2018
PART 1
SAVE THE CLOCK TOWER- WHITE CROSS
SLEEP SIGNALS- SUIT & TIE SUICIDE
FILTHY SWEET- I GET MINE
FAULT MINE- THE KNIFE
Friday, May 11, 2018
Friday, May 4, 2018
PART 1
DEAD HORSE TRAUMA- PSYCHO
DHT INTERVIEW IN STUDIO
ELI DYKSTRA- MR. PETERS
BLACK STAR ALLIANCE- MENACE TO SOBRIETY
SCREAMING FOR SILENCE- THE KING IS CROWNED
PART 2
TWENTY 2 SALUTE- WILD WEST
SCARLET CANARY- DEATH OF ROCK & ROLL
DEAD HORSE TRAUMA- FUGUE STATE
DHT INTERVIEW PART 2
PART 3
DEAD HORSE TRAUMA- THE FAMILY
DHT INTERVIEW PART 3
INDEX CASE- AUDACITY
SUPERCHIEF- LEVIATHAN
BRUTAL REPUBLIC- EAST SIDE WINDOW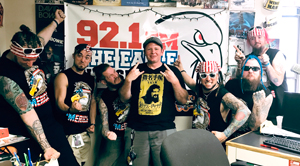 MASON WITH DEAD HORSE TRAUMA FROM L TO R:
SETH, GARRETT, JAYSON, MASON, ERIC, BRIAN, Q

Friday, April 27, 2018
PART 1
DEAD HORSE TRAUMA- TNT
ELI DYKSTRA- EMFD
ANCHORED- SHOTS AND COOKIES
SUPERCHIEF- BLACKENED SUNRISE
PART 2
SCREAMING FOR SILENCE- BURIED ALIVE
ANCIENT ELM- FLOODS OF WINTER
FAULT MINE- THE KNIFE
SAINT TRAGEDY- NO MORE RELIGION
PART 3
HOLD FOR SWANK- THE MORNING AFTER
LAKE OF FAT KIDS- PARTY FOUL
TOADSTOOL- SAID AND DONE
BRUTAL REPUBLIC- FULL WHITE MOON
Friday, April 20, 2018
PART 1
7 MINUTES 'TIL MIDNIGHT- I'M NOT READY
COLD KINGDOM- THE BREAK
SLEEP SIGNALS- SUIT AND TIE SUICIDE
CITY OF THE WEAK- SPIT IT OUT
INTERVIEW W/ BROOK HOOVER OF SURF ZOMBIES
PART 2
SURF ZOMBIES- GORILLA FIGHT
INTERVIEW W/ BROOK HOOVER OF SURF ZOMBIES
SURF ZOMBIES- ROCKABILLY BOOGIE MAN
MGCC- HARDCASE WOMAN
DENNIS FERRAND- 4-7-8
PART 3
SUPERCHIEF- LEVIATHAN
BLACK STAR ALLIANCE- POISONED MIND
CONQUEST- TOMORROW'S BLACK
BLUE FELIX- HATE INSIDE
KLOUD- SUBURBAN SUICIDE
Friday, April 13, 2018



PART 1
ROYAL BLISS- I WAS DRUNK
THE MAYBERRY RIOT- RISE
BEAVER CREEK FOUR- LOOKING GLASS
AUSTIN HANKS- BONE, MUSCLE, AND BLOOD
INTERVIEW W/ 7MTM
PART 2
7 MINUTES 'TIL MIDNIGHT- I'M NOT READY
INTERVIEW W/ 7MTM
SCARLET CANARY- BOTTLES AND ANCHORS
FAR FROM INNOCENT- FFI
BRUTAL REPUBLIC- EAST SIDE WINDOW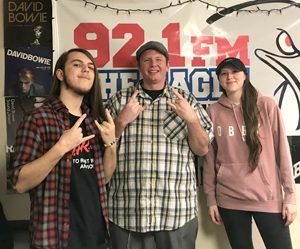 7MTM W/ MASON
L TO R: JALEN DEAN COLLINS, MASON, LAUREN VILLARREAL
PART 3
SCREAMING FOR SILENCE- HOUSE OF GLASS
ANCIENT ELM- DEATH ADDER
HAZER- THE GOOD BOOK
Friday, April 6, 2018
PART 1
7 MINUTES 'TIL MIDNIGHT- SWEET DREAMS
ANCIENT ELM- FRED
DEAD HORSE TRAUMA- GASOLINE DANCE
DYNE SIDE- VICES
INTERVIEW W/ FAULTMINE
PART 2
FAULTMINE- THE KNIFE
INTERVIEW W/ FAULTMINE
DENNIS FERRAND- 4-7-8
BARACUS- KEEPSAKES
DON'T DIE!- JUST ONE FINGER
FAULTMINE STILL HANGING OUT
PART 3
FILTHY SWEET- I GET MINE
HOLD FOR SWANK- YOU WOULD BE THE LOVE OF MY LIFE
FAULTMINE SIGN OFF INTERVIEW
JUNIOR'S ARMY- MEXICAN TORNADO
KICK- ELECTRIC LOVE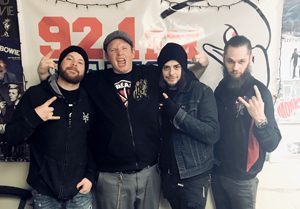 FAULTMINE W/ MASON, L TO R:
CHRIS ANDERSON, MASON, ROBERT RUSSELL, ALEX TOAL
Friday, March 30, 2018
PART 1
HAWKS- AMERICAN GIRLS
BRUTAL REPUBLIC- HANGMAN
THE MISSING LETTERS- LUCILLE
THE PLOTT HOUNDS- THIRSTY FOR SOMETHING
INTERVIEW WITH JIM REED & TED BODENSTEINER
PART 2
AUSTIN HANKS- BONE, MUSCLE, AND BLOOD
REED & BODENSTEINER INTERVIEW PART DEUX
ROYAL BLISS- CRAZY
SEVEN MINUTES TILL MIDNIGHT- SEVEN NATION ARMY
HOLD FOR SWANK- THIS IS NOT A REGGAE SONG
PART 3
DON'T DIE- JUST ONE FINGER
FAULT MINE- THE KNIFE
BARACUS- YOUNG AND STRANGE
HAZER- SAILING
Friday, March 23, 2018
PART 1
BLACKED OUT WORLD- AMERICAN SOIL
DEAD HORSE TRAUMA- TNT
SAINT TRAGEDY- NO MORE RELIGION
FACING FIRE- FILTHY LIFE
INTERVIEW W/ ANCIENT ELM
PART 2
ANCIENT ELM- FRED
INTERVIEW W/ ANCIENT ELM
STONE PARK RITUAL- JOKER'S WILD
FILTHY SWEET- HATE TRAIN
STELLA LOST- BREAK FREE
PART 3
BARACUS- KEEPSAKES
COLD KINGDOM- CHILD
THROUGH THE DARKNESS- WHEN THE LAST PETAL FALLS
SCREAMING FOR SILENCE- BURIED ALIVE
Friday, March 16, 2018
PART 1
AMERICATURE- KEEP WALKIN'
THE SLEEPOVER- COPY OF ME
KLOUD- MORGAN
AMERICATURE- LIKE I SEE THEM (ACOUSTIC LIVE PERFORMANCE IN STUDIO)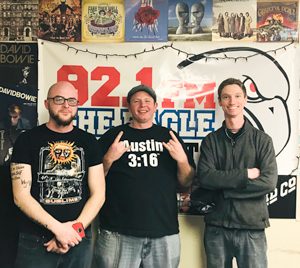 PHOTO IS MASON W/ AMERICATURE
L TO R: JARED HARP, MASON, JACK HANSON
PART 2
TV COP- CANDY
DON'T DIE- JUST ONE FINGER
LAKE OF FAT KIDS- WHATEVER'S CLEVER
HOLD FOR SWANK- YOU WOULD BE THE LOVE OF MY LIFE
TOADSTOOL- SAID AND DONE (ACOUSTIC LIVE PERFORMANCE IN STUDIO)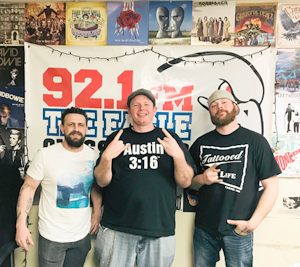 PHOTO IS MASON W/ TOADSTOOL
L TO R: CODY MCCLINTOCK, MASON, CHRIS ANDERSON
PART 3
GET BUSY LIVING- BURN AND REPEAT
PETS WITH HUMAN NAMES- TIAMAT
AMERICATURE- COMPASS (ACOUSTIC LIVE PERFORMANCE IN STUDIO)
AMERICATURE- I HOPE YOU NEVER CHANGE
ANCIENT ELM- FLOODS
TOADSTOOL- LET'S GO (ACOUSTIC LIVE PERFORMANCE IN STUDIO)
Friday, March 9, 2018
PART 1
COLD KINGDOM- NOT TONIGHT
SLEEP SIGNALS- I'LL SAVE YOU
SLEEP SIGNALS INTERVIEW
SLEEP SIGNALS- DRIVE
ELI DYKSTRA- SERIAL
SLEEP SIGNALS INTERVIEW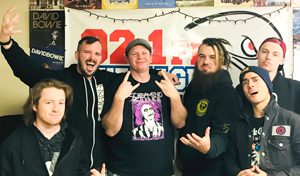 MASON W/ SLEEP SIGNALS
PART 2
FAR FROM INNOCENT- ANTE UP
COLD KINGDOM INTERVIEW
COLD KINGDOM- SURRENDER
COLD KINGDOM INTERVIEW
SCREAMING FOR SILENCE- HOUSE OF GLASS
THROUGH THE DARKNESS- FRAGILE
PART 3
SLEEP SIGNALS- SUIT AND TIE SUICIDE
SLEEP SIGNALS INTERVIEW
BURDEN OF THE SKY- SAME OLD PAGE
ANCHORED- SHOTS AND COOKIES
COLD KINGDOM INTERVIEW
COLD KINGDOM- THE BREAK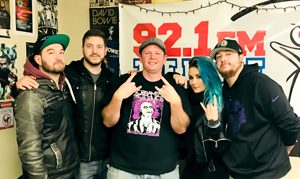 MASON W/ COLD KINGDOM
Friday, March 2, 2018
PART 1
HAWKS- ITS ALRIGHT, ITS OK
MGcc- BLACK KEY GUY
BEAVER CREEK FOUR- LOOKING GLASS
INTERVIEW WITH LONE TREE REVIVAL
PART 2
FILTHY SWEET- I GET MINE
INTERVIEW WITH LONE TREE REVIVAL
BRUTAL REPUBLIC- EAST SIDE WINDOW
HAZER- THE GOOD BOOK
AMERICATURE-I HOPE YOU NEVER CHANGE
PHONE INTERVIEW WITH ELI DYKSTRA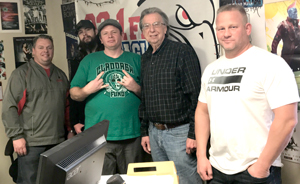 PART 3
ELI DYKSTRA- TATTOOED
COLD KINGDOM- LET IT BURN
SLEEP SIGNALS- SUIT & TIE SUICIDE
FAR FROM INNOCENT- FFI
Friday, February 23, 2018
PART 1
BURDENS WITHIN-DEAD TOWN
FACING FIRE-FILTHY LIFE
ELISIUM- SHORELINE
DEAD HORSE TRAUMA- PSYCHO
INTERVIEW WITH SETH FROM DHT
PART 2
DEAD HORSE TRAUMA- TNT
INTERVIEW WITH SETH FROM DHT
THROUGH THE DARKNESS- WONDERWALL
STONE PARK RITUAL- THE JOKER
FAR FROM INNOCENT- ANTE UP
INTERVIEW WITH FAR FROM INNOCENT
PART 3
FAR FROM INNOCENT- HAPPY
INTERVIEW WITH FAR FROM INNOCENT
ELI DYKSTRA- MR. PETERS
COLD KINGDOM- NOT TONIGHT
SLEEP SIGNALS- I'LL SAVE YOU
Friday, February 16, 2018
PART 1
AFFIANCE- BLACKOUT
ELI DYKSTRA- THE MOCKINGBIRD
SCREAMING FOR SILENCE-THE KING IS CROWNED
BLACK STAR ALLIANCE- POISONED MIND
INTERVIEW WITH HIGHWAY 7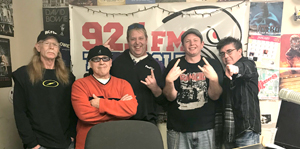 PART 2
ROYAL BLISS- I WAS DRUNK
INTERVIEW WITH HIGHWAY 7
BRUTAL REPUBLIC- HANGMAN
THE PLOTT HOUNDS- THIRSTY FOR SOMETHING
BOOMTOWN RIOT- BEATLES ON THE RADIO
PART 3
KNOCKOUT KID- EMPIRE BUSINESS
BREAKING EVEN- ALIVE
ANCHORED- SHOTS AND COOKIES
SAVE THE CLOCK TOWER- WHITE CROSS
Friday, February 9, 2018
PART 1
SCARLET CANARY-LET IT GO
MAXIMUS-BOOMSTICK
SCREAMING FOR SILENCE-HOUSE OF GLASS
THROW THE FIGHT-BURY ME ALIVE
ANCIENT ELM-FLOODS OF WINTER
EMPERORS+ELEPHANTS-WHO YOU ARE
PART 2
THE SLEEPOVER-COPY OF ME
KLOUD-SUBURBAN SUICIDE
AMERICATURE-KEEP WALKIN'
HOLD FOR SWANK-THE MORNING AFTER
CAVO-WRECK ME
PART 3
FILTHY SWEET-CAN SHE
DEAD HORSE TRAUMA-GASOLINE DANCE
FACING FIRE-FILTHY LIFE
HOLY WHITE HOUNDS-SWITCHBLADE
Friday, February 2, 2018
PART 1
FILTHY SWEET- I GET MINE
KICKSTART THE SUN- TURNING MIRRORS INTO DOORS
THE MISSING LETTERS- INMANIC
HAZER- THE GOOD BOOK
PART 2
BEAVER CREEK FOUR- LOOKING GLASS
MGcc- BLACK KEY GUY
DON'T DIE!- JUST ONE FINGER
TV COP- ELEVEN
PART 3
ELI DYKSTRA- SERIAL
COLD KINGDOM- THE BREAK
SLEEP SIGNALS- DRIVE
BLUE FELIX- HATE INSIDE
Friday, January 26, 2018
Part 1
BURDENS WITHIN-DEAD END TOWN
HAZER-SAILING
PETS WITH HUMAN NAMES-HOUSE OF ILL REPUTE
ROMANTIC REBEL-TOO FAR
INTERVIEW WITH RIDDLED WITH CLASS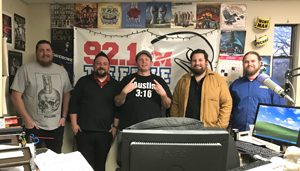 PHOTO OF RIDDLED WITH CLASS WITH MASON IN KZLB STUDIO 1.26.18
L to R: Levi Drew, Nick Ehrhardt, Mason, Greg Merritt, Jake Merritt
Part 2
CAVO-CHAMPAGNE
MORE INTERVIEW WITH RIDDLED WITH CLASS
BUFFALO FUZZ- HARD LOVIN' BODY
THE FUSS- I THINK I'M DYING
HOLD FOR SWANK- TIP OF MY TONGUE
Part 3
DEAD HORSE TRAUMA- TNT
THROUGH THE DARKNESS- FRAGILE
ARSON CITY- HORROR SHOW
THROW THE FIGHT- BURY ME ALIVE
Friday, January 19, 2018
Part 1
FAR FROM INNOCENT- ANTE UP
MGCC- BLACK KEY GUY
FRANK & HOWDY- RAZOR BOY
INTERVIEW WITH BEAVER CREEK FOUR
BEAVER CREEK FOUR- LOOKING GLASS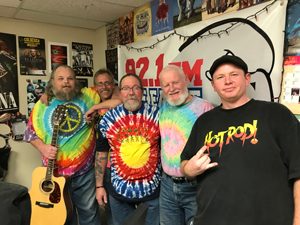 Beaver Creek 4 Photo in 92.1 Studio
L to R: Chip Evans, Steve Maas, Rick McClintock, Mike Hogan, Mason

Part 2
BEAVER CREEK FOUR(LIVE IN STUDIO)- IOWA RAIN
THE MAYBERRY RIOT- RISE
SAINT TRAGEDY- NO MORE RELIGION
SLEEP SIGNALS- SUIT & TIE SUICIDE
SCREAMING FOR SILENCE- BURIED ALIVE
LITA FORD PHONE CLIP
Part 3
SCARLET CANARY- DEATH OF ROCK & ROLL
ROMANTIC REBEL- DISAPPEAR
CITY OF THE WEAK- WHITE FIRE ALARM
THE RUMOURS- BAD HABIT
Friday, January 12, 2018
Part 1
BRUTAL REPUBLIC- HANGMAN
SEVEN MINUTES TILL MIDNIGHT- SEVEN NATION ARMY
LAKE OF FAT KIDS- LAST GOODBYE
DON'T DIE- JUST ONE FINGER
INTERVIEW WITH TV COP
Part 2
TV COP- CANDY
HOLD FOR SWANK-THIS IS NOT A REGGAE SONG
THE MISSING LETTERS- LUCILLE
INTERVIEW WITH TV COP
TV COP- ELEVEN
Part 3
ELI DYKSTRA- SERIAL
SLEEP SIGNALS- I'LL SAVE YOU
DEAD HORSE TRAUMA- PSYCHO
BURDEN OF THE SKY- SAME OLD PAGE
COLD KINGDOM- LET IT BURN
Friday, January 5, 2018
Part 1
THE SLEEPOVER- COPY OF ME
KLOUD- MORGAN
KICKSTART THE SUN- SIMPLY OUT OF LUCK
AMERICATURE- I HOPE YOU NEVER CHANGE
Part 2
EMPERORS AND ELEPHANTS- WHO YOU ARE
INDEX CASE- BLOOD AND A SIREN
CITY OF THE WEAK- BLAME GAME
THE PARAMEDIC- WHO I'VE BECOME
Part 3
ROYAL BLISS- CRAZY
THE PLOTT HOUNDS- THIRSTY FOR SOMETHING
BUFFALO FUZZ- PERFECT MAN
FRANK & HOWDY- CRAZY WORLD
JUNIOR'S ARMY- MEXICAN TORNADO
Friday, December 29, 2017
Part 1
BREAKING EVEN- ALIVE
KIRRA- MY DISEASE
ROMANTIC REBEL- TOO FAR
SAUL- BOLIDE
Part 2
HAZER- ….AND AGAIN
PETS WITH HUMAN NAMES- BLACK & GOLD
THE MISSING LETTERS- INMANIC
GET BUSY LIVING- BURN AND REPEAT
Part 3
DEAD HORSE TRAUMA- FUGUE STATE
SCREAMING FOR SILENCE- HOUSE OF GLASS
COLD KINGDOM- THE BREAK
ANCIENT ELM- FLOODS OF WINTER
Friday, December 22, 2017
Part 1
HOLD FOR SWANK- SELLING YOURSELF IN THE BLUE LIGHT DISTRICT
AMERICATURE- KEEP WALKIN'
3 FINGER BETTY- CAUGHT THE DRAGON
HAZER- BLOW ME AWAY
Part 2
BRUTAL REPUBLIC- HANGMAN
INTERVIEW WITH BRUTAL REPUBLIC
BRUTAL REPUBLIC- FULL WHITE MOON
THE MAYBERRY RIOT- RISE
SCARLET CANARY-DEATH OF ROCK N ROLL
Part 3
SLEEP SIGNALS- SUIT & TIE SUICIDE
MAXIMUS- GAVE YOU AWAY
AFFIANCE- BLACKOUT
BLACK STAR ALLIANCE- POISONED MIND

FROM L TO R
ALEX TREVINO, MASON, KALEB FERRY, JEREMY OBER
Friday, December 15, 2017
Part 1
Screaming For Silence- Long Way Up
Index Case- Ocean
Blue Felix- Hate Inside
Save the Clock Tower- White Cross
Dead Horse Trauma- Left Unsaid

Part 2
The Missing Letters- Inmanic
Interview with Bryan and Shannon from The Missing Letters
The Missing Letters- Lucille
Kick- Sick Religion
Pets With Human Names- Tiamat
Part 3
Hold For Swank- You Would Be the Love of My Life
Interview with Eric from Hold For Swank
Hold For Swank- The Morning After
Lake of Fat Kids- Last Goodbye
Don't Die!- Just One Finger
Friday, December 8, 2017
Part 1
Maximus- Boomstick
Cold Kingdom- The Break
Arson City- Horror Show
City of the Weak- White Fire Alarm
(MGcc Interview)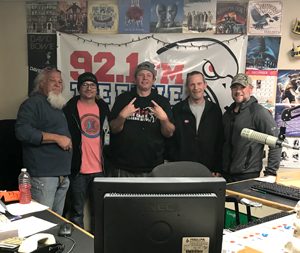 Part 2
MGcc- Black Key Guy
(MGcc Interview)
Brutal Republic- East Side Window
Far From Innocent- Happy
HAWKS- American Girls
Part 3
Hazer- The Good Book
Kloud- Morgan
The Sleepover- Copy of Me
Hold For Swank- Tip of My Tongue
Friday, December 1, 2017
Part 1
Don't Die- "Just One Finger"
The Missing Letters- "Inmanic"
Boomtown Riot- "Beatles on the Radio"
Kickstart the Sun- "Simply Out of Luck"
Part 2
Dead Horse Trauma- "Psycho"
Screaming For Silence- "House of Glass"
Burden of the Sky- "Same Old Page"
Cold Kingdom- "Surrender"
Black Star Alliance- "Sinsation"
Part 3
Brutal Republic- "Hangman"
MGcc- "Hard Case Woman"
Buffalo Fuzz- "Perfect Man"
The Mayberry Riot- "Rise"