Fort Frenzy is a great place for kids and adults alike with all of the great games and attractions available. Everything from arcade games to laser tag and go carts. But did you know, they also have a dining room so that you can get recharged and back into the fun and games? That's right, the Fort Frenzy Cafe is open for you to get something for you to snack on or something for supper for you and your family. They have your snacks like nachos, pretzels and hot dogs, but they also have supper items like pizza and chicken wings! You can also have your birthday party there where they will take care of everything, the pizza, the invitations, the cake and they will even help you clean up! Stop into Fort Frenzy today or visit their website at http://www.fortfrenzy.com/home.
Tuesday, October 4, 2016
Melissa was our guest this morning and she brought us Pizza! And not Fort Frenzy's normal Pizza, their New Pizza! They changed not only the crust, but the sauce and cheese. So their pizza is even better than it was before, if that is even possible!! Melissa brought is a Meat Me, which is their all meat pizza, and a BBQ Chicken pizza. That pizza is really to die for. They have a great crust and they definitely know how to make pizza. There just are that many words to describe how good this pizza is. Just a great flavor all around. So next time you have the family out for a day of fun and games at Fort Frenzy, take some time for some lunch and some great pizza!


Tuesday, August 30, 2016
Melissa stopped in the studios to give us something newer on their pizza menu – Dessert Pizza! It is a pizza crust with fruit topping, a crumble and drizzled with frosting. Melissa brought us Cherry and Apple and they both were delicious! You can not go wrong with a dessert pizza, either as a tag along with your Fort Frenzy pizza or just by itself. Either way, you will love this pizza! Fort Frenzy has a variety of pizzas for you to choose from when you bring the family in for a day filled with fun! Try some for yourself, you will not be dissappointed.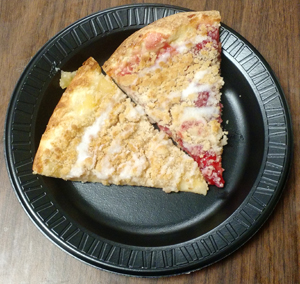 Tuesday, March 1, 2016
Melissa was our guest once again and she always finds new stuff to bring us. This time she brought us a Sausage pizza and a Bacon Pizza. She also brought us some of their BLT Salad. All three are part of their Pizza and Salad Bar that Fort Frenzy now has. The pizza was delicious and really a good pizza. The salad had perfectly cooked back with fresh tomatoes and lettuce. Just a great lunch for someone looking to great food in the area! Thanks Melissa. We can't wait to see what you bring us next time!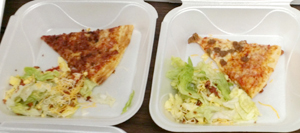 Tuesday, January 12, 2016
Melissa and Josh were our first guests of 2016 and they wanted to make sure that we remember that. They brought us some BBQ Pulled Pork Sandwiches and some Loaded Fort Frenzy Fries with Cheese and Bacon! I don't think that we will forget that. The pulled pork is juicy and perfect with the right amount of BBQ sauce. And the fries, talk about incredible! Just like you are taking a bite out of loaded potato,but in a potato wedge fry. Well done! Not your usual from Fort Frenzy, but they are stepping up their game. You can still get your pizza and snacks, but if you are in the mood for something more, here you go! So the next time you stop in with the kids, make sure that you make yourself hungry playing games and stay for supper. You will not be disappointed!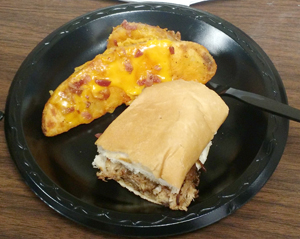 Tuesday, September 1, 2015
Melissa and Josh joined us this morning and they brought some things in the spirit of school going back in session! They brought us some After School Snacks that they offer at Fort Frenzy. Mini Tacos, Mini Corn Dogs, Mini Pretzels and Uncrustables are all something that you or your kids can get for a snack while at Fort Frenzy. Delicious snack items that every parent will approve of for after school!!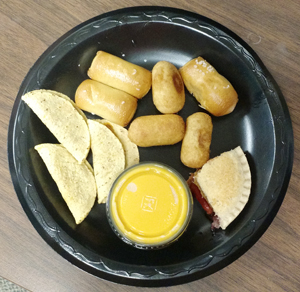 Tuesday, June 30, 2015
Melissa and Josh brought us something new and it was delicious! They brought us some of Fort Frenzy's Toasted Subs. They brought us some Ham & Cheese, Buffalo Chicken, BBQ Chicken and Italian Toasted Subs. They also have Teriaki and Veggie subs available. They said that they can put anything that they can put on a pizza on their subs! What a great idea. Get your pizza in a sub! Thanks to Melissa and Josh! We are definitely looking forward to what you bring in next. Something new every time!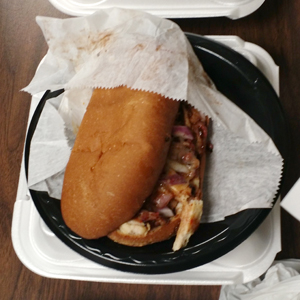 Tuesday, April 21, 2015
Melissa stopped for the first time this year and it seemed like she wanted to make up for lost time! Melissa brought us some pizza. And by some pizza, I mean 3 large pizzas! She brought us a Hawaiian, a Veggie and a Supreme Pizza. And not only did she bring  delicious pizza, Melissa also brought some wings, both Boneless and Bone-In! I bet that you didn't know that Fort Frenzy had Wings, did you? Now that you know, you need to go and try them out! They are great! They also have delicious sauces: BBQ, Sweet Chili, Buffalo, Roasted Garlic BBQ and Teryaki! Fort Frenzy not only has great family fun, they also have delicious food!