At Tropical Smoothie Café, they believe there's no better way to make a great meal than with fresh, natural, quality ingredients. Tropical Smoothie Café's menu boasts bold, flavorful food and smoothies with a healthy appeal, all made to order from the freshest ingredients. They find that superior, simple ingredients including real fruit and veggies set our smoothies apart from the others. And their toasted wraps, sandwiches, flatbreads and gourmet salads are made fresh with high quality meats and cheeses and topped with fresh produce and flavorful sauces. Combine that with a fun atmosphere and unparalleled hospitality and you can see why people return again and again for the Tropical Smoothie Café experience.
Like Tropical Smoothie Cafe Fort Dodge on Facebook for specials and contests!
Tuesday, June 5, 2018
Peyton, Malcolm and Chase were our guests and I tell you what, the great people at Tropical Smoothie know just how much we LOVE them! They brought enough food and smoothies to feed a small army, and that they did! They brought us some Baja Chicken, Supergreen Caesar Chicken and Caribbean Jerk Chicken Wraps along with some Turkey Bacon Ranch and Ultimate Club Sandwiches! As far as smoothies, they brought Rockin Raspberry, Island Green, Mocha Madness, Kiwi Quencher and their summer smoothies, Watermelon Mojito and Sunshine! They were also here to promote their Flip Flop Day on Friday, June 15th from 2:00-7:00pm where if you stop in wearing Flip Flops, you get a free 16oz Sunshine smoothie, with proceeds going to Camp Sunshine! So stop on over and get your favorite smoothie today!



Tuesday, April 10, 2018
It has been quite awhile since we have had the girls from Tropical Smoothie in the studio, but they didn't disappoint. They brought us in some of our favorites – Smoothies and Flat Bread! They brought us some Cali, Chicken Pesto, Chicken Bacon Ranch and Chipolti flat bread and a whole bunch of different smoothies, and they made sure everyone in the building didn't leave hungry, that is for sure! So with the weather looking better, stop in and get some of your favorites!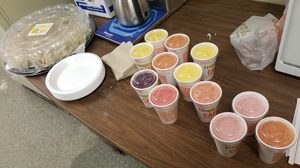 Tuesday, June 13, 2017
Baylee, Olivia and Laura from Tropical Smoothie were our guests this morning and they brought us some new stuff! They brought us one of their Hawaiian BBQ Flatbread and a Turkey Bacon Ranch Sandwich. And to help those go down, the girls also brought us some of their Limited Time Sunshine Smoothie. The Sunshine Smoothie is only available on Fridays. And if you stop into Tropical Smoothie this Friday, June 16th from 2:00-7:00pm, you can get a FREE Sunshine Smoothie if you are wearing Flip Flops for their National Flip Flop Day. Friday will kick off their fundraising campaign for Camp Sunshine. Click here for more details. Everything, of course, was delicious and something that we would suggest to any and everyone! So stop by Tropical Smoothie today AND Friday for a great smoothie!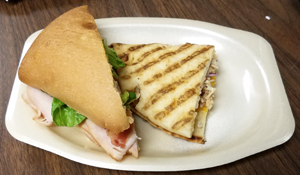 Tuesday, December 20, 2016
Tropical Smoothie stopped in our studios this morning for the last time of the year. And like always, they brought enough great food for everyone in the building! Today they brought some of their delicious wraps. They brought us King Caesar, Thai Chicken and Buffalo Chicken wraps along with Chai Banana with Peanut Butter, Chai Banana with Strawberries, Immune Blast, Cranberry Truffle and Raspberry Cranberry Smoothies! This morning everyone was very happy! No matter what wrap you get, they are all delicious and very nutritious, which is a great combination. And I don't think there is a bad smoothie on their menu. The 5 flavors they brought today are no exception! Stop in today and find your favorite combination!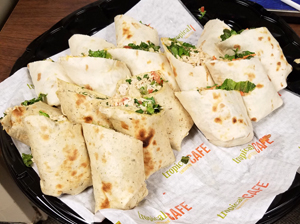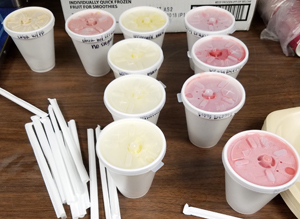 Tuesday, November 22, 2016
It has been a LONG year since Tropical Smoothie has been in our studios, but I think they made up for it today! Brennan and Izzy showed up this morning with more food that there was people in the building. They brought us some of their Flatbread, which was Chicken Apple Flatbread, whose promotion ends on December 24th, Baja Flatbread, and Chipolte Flatbread. They also brought some varieties of their Acai smoothies, Acai Berry Boost, Acai Blue, and Acai Truffle. The Acai Blue and Acai Truffler are on promotions that end on December 24th, but can still be made after that. The Acai Berry Boost was delicious and to tell you the truth, all of the Flatbreads were good, since you have to try them all, right?! Thanks guys for coming in and hopefully it won't be so long before the next time you stop in.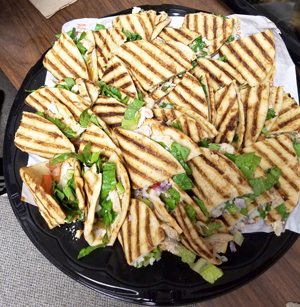 Tuesday, November 24, 2015
The girls from Tropical Smoothie joined us this morning and of course, they brought enough for everyone!! They brought us some of their flatbreads and sandwiches: Moho Mojo, Island BBQ Club, Tzatiki Steak, Fiesty Feta Chicken, Chicken Pesto, Chipolte and Baja Chicken. They also brought us some more of their different flavors of smoothies: Blueberry Bliss, Very Berry, Blueberry Truffle and Cranberry Truffle. The sandwiches and flatbreads are something you HAVE to go and try if you haven't already! They are delicious and got perfectly with really any smoothie that you want. Stop on in and try something new today!
Tuesday, October 12, 2015
Laura and Kastin were in the studios this morning and they brought us, and everyone else in the building, some breakfast that consisted of delicious smoothies and breakfast wraps!! They brought us some Blimey Limey, Rockin Raspberry, Caribean C-Burst, Sunrise Sunset with Whey, and Unbeatable Berry smoothies with their All American Omelete Wrap. A great combination for breakfast and simply a great way to start the day. Tropical Smoothie has what you need to boost you up throughout the whole day! Thanks ladies!!
Tuesday, May 12, 2015
The girls  from Tropical Smoothie came in this morning and of course, they brought enough for everyone! They came in to talk about their "Enhanced" menu. So they brought us some of their Tacos: Fish, Chicken and Steak, Spinach and Feta Omelet Wraps, Peanut Butter Banana Crunch Flatbreads, and some Hawaiian BBQ, Carribean Jerk Chicken and Sweet Siracha Chicken Sliders. If that wasn't enough, they also brought us some of their second to none Smoothies: Cucumber Mojito, Watermelon Mojito, Strawberry Lemonade, Avocolada, both White and Dark Chocolate Beach Bums, and Health Nut with Whey. These girls really look out for us here at the stations. Their food is so delicious, no matter what you get, breakfast or lunch! And their smoothies are perfect, whether you are just wanting a yummy smoothie or a after workout healthy smoothie. They can do it all. Just stop in and ask them and they will show you what they can do!
Tuesday, February 17, 2015
Cory and Chelsie were our guests this morning and they brought us more of their delicious menu items! They brought us smoothies, of course, but they also brought us some of their wraps and sandwiches. They brought us a Mocha Madness, Beach Bum + Dark Chocolate, Kiwi Quencher, Sunny Day and Mango Magic smoothies. For sandwiches, they brought Turkey Bacon Ranch, Ultimate Club and Wasabi Roast Beef. And for wraps, they brought Buffalo Chicken, King Caeser and Cordon Blu. If you are looking for a delicious, healthy meal with fresh ingredients, Tropical Smoothie Cafe is your place. Their smoothies are second to none and their menu has some of the most delicious items that will make you want to eat healthy everyday!
Tuesday, December 30, 2014
Tropical was our guest for a second straight week and they might have outdone themselves. They brought us some Toasted Flatbreads to try and 21 smoothies in 5 different flavors! Enough for everyone in the building! They brought us some of their Chicken Pesto, Baja Chicken, Chipolte Chicken Club and their new Tzatzini Steak Toasted Flatbreads. They were very yummy. The flatbread really finishes those sandwiches! As far as the smoothies, they brought us their Muscle Blaster with Whey, Bahama Mama, Immune Blast, Caribbean C-Burst, and Detox Island Green. Don't let the Kale and Spinach deter you from the the Island Green. It is very tasty and worth a try! Thanks once again girls and we look forward to seeing what you bring us in the new year!!

Tuesday, December 23, 2014
Cory and the girls from Tropical Smoothie Café dropped in this morning and they brought us a variety of smoothies and breakfast food! They brought us some of their Classic Sandwich with both sausage and bacon, their Early Bird Wrap and their Salsa Sunrise Wrap. For smoothies, they brought us their Sunny Day, Bahama Mama, Sunrise Sunset, Blimey Limey, Kiwi Quencher, Very Berry Cranberry and Cranberry Truffle smoothies to try. I tell you what, talk about DELICIOUS!! Those smoothies were all great, not a bad one in the bunch! Thanks girls!!

Tuesday, November 25, 2014
The girls came in today for their first Tasty Tuesday and they wanted to make a good impression. And did they!! They bought a smorgasboard of different food and of course, smoothies! They brought us their The Classic Sandwich breakfast sandwich, which has eggs, cheddar and american cheese and your choice of either bacon or ham on a toastedd ciabatta. They also brought in some wraps: Buffalo Chicken, King Caesar and Totally Turkey along with some muffins. And finally, the smoothies. The girls brought us a Mocha Madness, a Kiwi Quencher, a Pumpkin Pie, an Acai Berry Boost and an Island Green, which they say is so much better that it sounds! Thanks girls for the great variety and we hope to see you again!