Maid-Rite of Webster City is new to the area and they are already making an impact on their customers. Maid-Rite of Webster City gives you that classic loose meat sandwich that everyone loves, but they offer so much more! Maid-Rite of Webster City offers everything from breakfast to Broasted Chicken, shakes and malts to salads and wraps, and everything inbetween. Stop in at 409 Closz Dr in Webster City today to find your new favorite dish or give them a call at (515) 832-9950 and let them have it ready for you when you are on your way through. You will not be dissappointed!
Tuesday, July 7, 2015
Kendall stopped in again this morning and he brought us some more of the great food they have at Maid-Rite of Webster City. He brought us a Tenderloin, a BBQ Pulled Pork Sandwich and a Shake. Talk about feeding us all day! The Tenderloin was very good, with a great breading and just the right thickness for a tenderloin sandwich. And of course he brought us all of the fixin's for that! Next up was the BBQ Pulled Pork sandwich. The Pulled Pork was done perfect and talk about a good portion on the delicious bun. The BBQ sauce added just enough as a flavor enhancer for the meat. And finally, a Shake to finish the meal off. Kendall brought us a few flavors: Chocolate, Strawberry and Vanilla. The shakes were delicious, full of flavor and perfect. Once again, great food Kendall!! We can't wait to try what you bring us next time!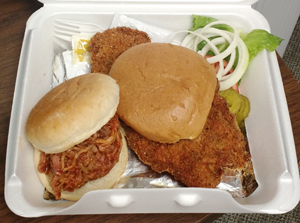 Tuesday, April 7, 2015
Cathy and Kendall stopped by our studios this morning for their inaugural Tasty Tuesday appearance and they a little bit of almost everything it seems like. They brought us a Ham and Cheese Omelet and some hashbrowns and a Ham, Egg, & Cheese Breakfast Sandwich on a Muffin for breakfast, a classic Maid-Rite with the fixings and some of their Broasted Chicken! You will need to go there for their breakfast menu, because if it is all as good as the omelet and breakfast sandwich, you won't get anything that isn't good! The Maid-Rite is exactly how you remember it with the classic loose meat on a delicious bun. Put a little ketchup and mustard on there and you have a complete sandwich! and finally, the Broasted Chicken. Who can go wrong with crispy skin with juicy, tender meat under that? Everything was delicous and made us wanting more, if that is possible! Thanks you two and we look forward to what you bring us next time!