Come enjoy the friendly, small town local bar and grill at Stumpy's Bar & Grill! Great burgers, home cooked daily lunch specials, cold beer, and an awesome staff is what you will find when you step in the door! Stumpy has daily specials and weekly specials like Taco Thursday! Like them on Facebook to see their Daily Specials and whatever new dish Stumpy decides to try that night!
Tuesday, November 20, 2018
Stumpy stopped in and he brought us something he has never brought us before: Hand Breaded Tacos! They are his special every Thursday and they come with homemade Tortilla Chips and homemade Salsa! These tacos are so good, we couldn't even get a picture because they didn't last that long! Stop on over at Stumpy's this next Thursday and try one for yourself and you will understand! Thanks Stump!
Tuesday, July 31, 2018
Stumpy brought us something that from first glance doesn't look like much, but once you take that first bite, you know different. Stumpy brought us his Chicken Fajita Wraps with none other than his homemade chips, which why would you have any other side at Stumpy's! His Fajita Wrap is just delicious and full of flavor, which is something that Stumpy really knows how to do with really any dish that you get there. So next time you stop, get the Chicken Fajita Wrap and let it become your new favorite!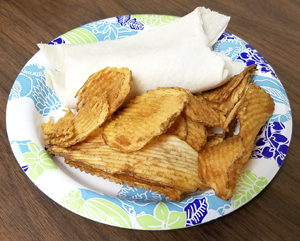 Tuesday, April 24, 2018
Stumpy stopped in for the first time this year and he brought us something he hasn't brought in for quite awhile. Stumpy brought us 4 different pizzas for us to enjoy. He brought in a Meatlovers, a Philly Cheesesteak, a Specialty, and lastly, one of his Stumpy's pizzas. Stumpy's pizza is very good, up there with some of the best tasting around. And he has a menu of different pizzas as well, so stop in to Stumpy's in Duncombe and order one, or a few, your choice. We promise that the pizza won't last long!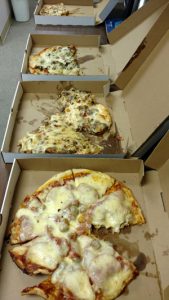 Tuesday, September 12, 2017
Stumpy joined us this morning and he brought something that he didn't really know was going to be as good as it is. Stumpy brought his Stumpy Bites this morning. Now, you may think that they are just an appetizer, but with how good these things are, they could be a meal very easily! The Stumpy Bites started out as parts of his delicious Tenderloins that were just too soft to be used for his sandwiches., So he cut them up, breaded them and gave them a good frying. They have been a hit ever since! So if you are hungry for Stumpy's delicious Tenderloin Sandwich, but feel like you won't be able to finish it, get an order or two of Stumpy Bites. You won't be disappointed!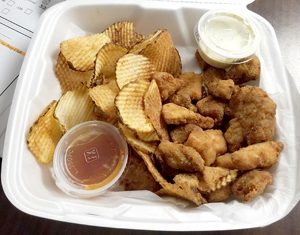 Tuesday, July 11, 2017
Stumpy stopped by and you never really know what he will bring. You know the usual great dishes that Stumpy has on the menu, but he brought us something a little different this time. Stumpy brought us some of his Philly Cheese Steak Nachos. And I tell you what, those are delicious and I really don't like Philly Cheese Steaks! The best part, the nacho chips are homemade by Stumpy! Just another dish that Stumpy makes that he insists on using homemade ingredients. That is really what sets Stumpy's apart from most of the other places around. The meat was seasoned right and was just delicious with the peppers and those homemade nacho chips. And cheese just makes things better and he puts a good amount on. So the next time you stop into Stumpy's, get the Philly Cheese Steak Nachos and you will not be disappointed!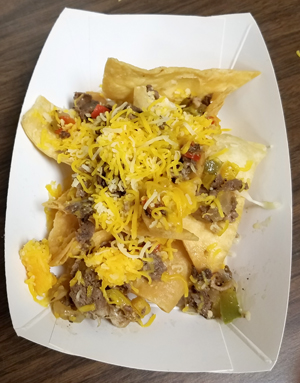 Tuesday, May 2, 2017
Stumpy was our guest for the first time this year and he was requested to bring in his Tenderloins! If you have not been to Stumpy's Bar and Grill and even if you have and have not had his Tenderloins, you need too! These are DELICIOUS and they are better than any other Tenderloin that you have ever had. They are thicker than most Tenderloins and they are JUICY! Next time you stop in to Stumpy's or if you are even close to being in the area, stop in and order a Tenderloin. You will not be disappointed!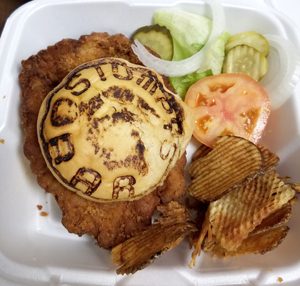 Tuesday, June 14
Stumpy was our guest this morning and he brought us in a couple of his burgers. He brought us one of Stumpy Burgers, which is a half pound hand pressed fresh hamburger patty with Pepperjack Cheese, finished off with a homemade bun. The other one was the same burger, but with Cheddar Cheese instead. Stumpy also makes his own chips, which be brought alot of! Talk about a big and juicy patty! With the homemade bun, that burger is one of the best around. Just a great burger. And the chips are perfectly crispy. Hard to find homemade chips like that around.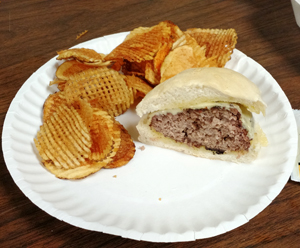 Tuesday, May 17th
Stumpy stopped in the studios again this morning and he brought us some of his delicous pizza! Stumpy brought a Chicken Bacon Ranch pizza, a Meat Lovers pizza and a Supreme pizza. Talk about delicious. They have a great crust, just thick enough to have some softness to it, but thin enough to be crispy, if you know what I mean! And as you can tell from the photo, they did not last long! Stop in to Stumpy's tonite and get one for yourself. You will want to eat the WHOLE pizza by yourself! Check out Stumpy's Facebook page to see what the Daily Specials are!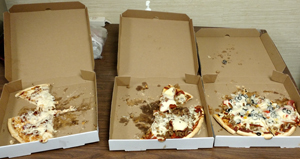 Tuesday, April 19th
Stumpy joined us this morning for his first time in the studios and he did not disappoint. He brought us one of his Tenderloins on a delicious bun. HE hand-breads the tenderloins, which are the size of your HEAD! He also makes his own chips, which were to die for. You won't find better homemade chips around. When you get the tenderloin, you have lunch for at least a couple of days! Thanks Stumpy! We can't wait to see what you bring next time!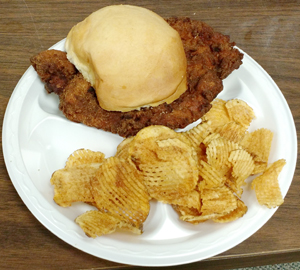 Tuesday, December 11th
Stumpy joined us this morning for his first time in the studios and he did not disappoint.  Today he brought delicious Chicken Patty Melt.  Now, normally, you'd get a patty melt with beef on rye bread with swiss cheese but Stumpy gave us a choice…what a guy.  He served us a tasty chicken breast that was hand breaded at Stumpy's Bar and Grill and served on rye bread without choice of American, Swiss, or Pepper Jack cheese.  I had mine with American and it was topped with grilled sauteed onions.  It was super tasty.  Oh, and he brought his home made chips as well.  So it was great and we'll all be full for days.  Thanks, Stumpy!