Lewright Meats is a family owned and operated business that was built in 1936 by their grandfather, H.L. Lewright, Sr., in Eagle Grove, IA. Whether it's through their retail store, our deli, packages mailed direct to you or with their meat processing services, their are here to serve you quality meats day in and day out. That's their promise.
They offer a wide selection of pork and beef, all from corn-fed livestock grown in Central Iowa. All quality meats are produced using the "old fashioned way" combined with modern day procedures in their processing, curing and smoked techniques. Their special flavor comes from them still cooking and smoking their products over actual burning hickory logs.  Also, none of their products have water added, so the full flavor of the meat is there to enjoy!
Stop in to their Deli and Retail store at 317 W Broadway Street in Eagle Grove, Monday thru Saturday. Click here to visit their website for hours and menus!
Tuesday, January 30, 2018
Ethan was our guest this morning and he was our FIRST Tasty Tuesday guest of 2018! With the Big Game this weekend, Ethan brought us some of their Summer Sausage . Ethan brought us some Smokey Hickory, Cheddar, Cheddar Jalepeno and Spicy BBQ. IF you are having a party this weekend, we would highly suggest stopping at Lewright Meats and get some Summer Sausage. The Cheddar was my favorite, with the cheese not melting since they use a higher temp cheese that doesn't melt when they are making the Summer Sausage. Stop in and find your favorite! Thanks Ethan!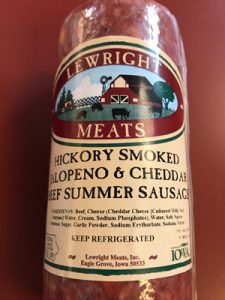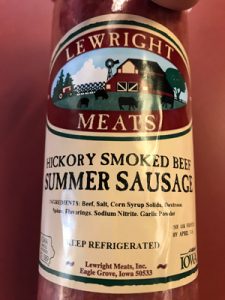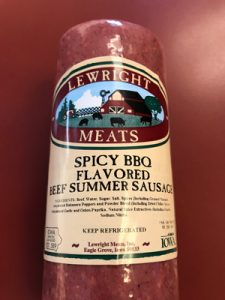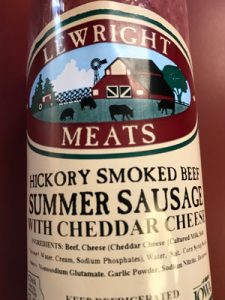 Tuesday, November 29, 2016
Ethan was our guest again this morning and he brought us some of their Christmas Gift Boxes. They brought us some Ham, Bacon, Jerky and some Snack Sticks! Nothing better first thing in the morning than a Smoked Ham Steak and some of their delicious Bacon. Also, what a better way to say Merry Christmas than a Gift Box from Lewright Meats. To get yours or to send one to a friend or family, go to their BRAND NEW website and choose your box there. They have a variety of Gift Boxes, depending on what you want and how much of it! And the best part, the prices are really good. So you can get a Gift Box for you AND someone else and not break the bank. And as we know here, no matter what you get, you will love the flavors that Ethan and his team have made with all of the products. Check them out at their website TODAY!!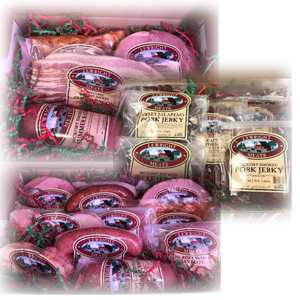 Tuesday, October 18, 2016
Ethan and Shenae joined us again this morning and they brought us a sample of some of their smoked meats. They brought us a plate of their BBQ Pork, Beef Summer Sausage, Shaved Ham and Smoked Pork Chop. Now, I don't know about you, but good, hot smoked meat first thing in the morning is awesome and Lewright Meats definitely brings the awesome! The BBQ Pork was delicous and I don't know what kind of BBQ sauce they use, but I want to find a barrel of it. Just delicious. Then the Smoked Pork Chop was second to none. Probably the best smoked pork chop I have ever had. And the best part, you can find that at Mineral City! Lastly, who doesn't love a great ham sandwich with some cheese, crackers and some Summer Sausage? You can get that there too and both are DELICIOUS! That Shaved Ham would make a killer Ham sandwich and the Summer Sausage would be gone before the cheese on a meat and cheese tray! Thanks to Ethan and Shenae. We really look forward to what you bring next time!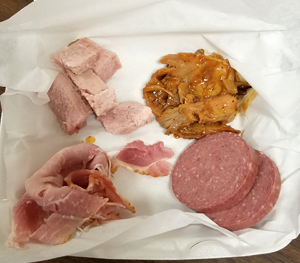 Tuesday, September 13, 2016
Lewright Meats made their first Tasty Tuesday appearance this morning and they brought us some of their new products! Ethan brought us some of their new beef and pork sticks and some new jerky flavors! Some of the flavors were Mango & Habenero Pork, Pineapple Pork, Teriyaki Pork, Habenero BBQ Beef and Hickory Smoked Snack Sticks. And for the jerkey, they brought some Hickory Smoked Beef Jerkey and some Sweet Habenero Pork Jerky. Definitely great flavors! The snack sticks have a great snap when you take a bite and just great flavor. The jerky is just perfect with the texture and flavor, tough but not too tough. I know that we cannot wait until the stop in again so we can try more of their delicious products!