Community Tap & Pizza is located at 2026 5th Avenue South in Fort Dodge and is a great place to go for a drink and to get some great food. Community is a great place to take the family and have a great meal with no work needed. They got it covered for you. But they have more than just what their name implies. Community Tap & Pizza carrys a full menu of sandwiches, burgers, and of course, their delicious pizza. So stop on in, call in and take something out or have your favorite pizza delivered, either way you do it, you will be happy that you had Community Tap & Pizza!
Tuesday, June 19, 2018
Community Tap & Pizza was our guest this morning and they brought us some of their favorite pizzas! They brought us Crab Ragoon, C-Mac, Philly Cheese, BBQ Pork, Chicken Taco, Beef Taco, All Meat and Community Special! So talk about great pizza! I had at least one piece of each and I gotta tell ya, Crab Ragoon was my favorite and I think that it will stay that way. It is DELICIOUS! So stop on in and enjoy some pizzas with some friends over some beers, or have one delivered and enjoy it in piece. Either way, it is great pizza! Thanks for stopping in!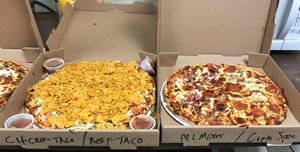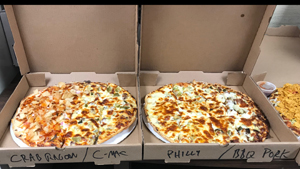 Tuesday, May 1, 2018
Mike and some of his staff stopped in our studios this morning for the first time. When you think of Community Tap & Pizza, you usually think of one thing, PIZZA. Well, they brought in something special for us today since it is Tuesday, they brought us TACO TUESDAY! Mike and his staff brought us a Taco Bar, which included hard and soft shell tacos, taco meat, shredded chicken, cheese, and all of the taco fixins! But they didn't stop there! They also brought us some chips and queso and to top it all off, they also brought us some Margaritas! So our day really started off on the right foot! They have Taco Tuesday every Tuesday where you can also get some Pork and Brisket for an addition $2.00 along with your Beef and Chicken! And since Saturday is Cinco de Mayo, they will be having their Taco Bar available as well as their Cinco de Mayo Pizza! So kick off the month of May the right way and go on over to Community Tap & Pizza! Thanks guys!