At grounded, going out for dinner is an occasion to be savored. Time spent going out with friends creates unforgettable memories, and it's their job to weave all of this together for you. Their family loves cooking, baking, and coffee-making! Wanting to bring their recipies to Clarion and the surrounding area, they purchased grounded. Yes, that's a lowercase g. As you walk in, their vision is that you enter a relaxed, welcoming cafe with smiling service and fantastic food and drinks. Stop in and see what grounded is all about at 118 N Main Street, Clarion, IA 50525 or call ahead for a reservation at 515-602-6212. Or you can check grounded out at www.groundedonmain.com or follow them on Facebook.
Tuesday, October 23, 2018
It has been a little while since we have seen Danny from ground On Main, but he really knows how to make a person feel wanted! Danny brought us some of their burgers, which you wouldn't think of coming from ground on Main, but here they are! And they are DELICIOUS! He brought us their Cheeseburger as well as their Hamburger, but Danny also brought us on of their Mushroom and Swiss Burgers and their Sriracha Bourbon Burger. Talk about GREAT burgers! The hamburger patties are a half pound patty on a kaiser bun, a ciabatta bun with the Mushroom and Swiss burger and some Texas Toast for the Sriracha Bourbon burger. And not only do you get a huge, delicious burger, you also get a healthy helping of homemade chips, which are the best thing to top off that burger! Try one for yourself and I bet you will not leave hungry!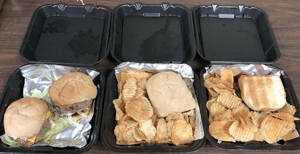 Tuesday, July 10, 2018
This morning was a first for grounded as they joined us on the air. They obviously knew that we have a hard time waking up as early as we do here and they wanted to help us get ready for the day. Not only did they bring us some of their Solis Breakfast Tacos, but since it is summer and it gets kinda hot in our studios, they brought us some of the Woman in Love Frappes! Cooled us off and woke us up! Great combination! And to really keep us going for the morning, they also brought us some of their Monster Chocolate Chip Cookies! And with a name like grounded, you would think that all they do is coffee. Well, you are wrong, they have a great breakfast and lunch menu and also a supper menu Wednesday through Sunday nights! So stop in and see what your favorite will be!